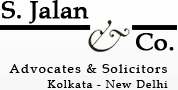 Core Practice Areas
Q: I have a query regarding joint property. If a property is registered against two name, can the holding of a joint property be mutually decided irrespective of payment made by any partner. For example, if one partner pays 90% of the property price and another pays 10 %, whether the holding can be declared as 50-50?

Q: Can a builder hand over possession of a flat (in multistoried apartment block of 10 floors), without obtaining (1) n.o.c. From fire department and (2) completion certificate from concerned authority ?
+ View all
WHO WE ARE
The firm founded by the renowned jurist Mr Shyamanand Jalan, traces its origin to 1950. It is one of the oldest and best-known Law firms in Calcutta.

The firm has developed multi locational presence in India with its offices at Calcutta and New Delhi . The offices are fully functional, modern and well equipped with a legal support staff consisting of Lawyers, in-house counsels, Chartered Accountants, professional retainers and paralegal personnel, accountants, hardware and software personnel and office administrators headed by a team of cohesive partners. The knowledge/database dedicated round the clock service (the Head Office remains open 24 hours) and team of practice area specific experts enable the firm to provide services of international standards and requirements.

The firm has established a solid reputation in Calcutta, where it was founded and also enjoys a coveted niche in Northern India, primarily through its dedication to serving our varied clientele that includes – Industries (both in Public and Private Sectors), Financial Institutions, Multinationals, Software Houses, SOHO, Charitable and Educational Organisations, NGOs and individuals. The firm also has Disinvestment experience.

The Asia Pacific Legal 500 has also named the firm among the top Law Firms in India.

Legal500 Recommends us

New Delhi-

Real Estate- "The Delhi office of Kolkata-based Sjalan Company has been retained by Bennett, Coleman & Co in relation to its significant real estate portal and has advised Ambience Developers & Infrastructure on the Ambience Island township project that will comprise residential and commercial developments...
+ View all
CONTACT US
Corporate Office:
6/7-A, A J C Bose Road,
Kolkata 700 017
Tel +91 33 2280 7559/60/61
Fax +91 33 2287 9610
E-mail:
kolkata@sjalanco.com
Contact Person:
Mr. Tanmay Jalan / Mr.B. S Purohit
Litigation Office:
10, Old Post Office Street,
Kolkata 700 001
Tel +91-33-2248 3383, 2220 7427
Fax +91-33-2210 4641
E-mail:
kolkata@sjalanco.com
Contact Person:
Mr. Tanmay Jalan / Mr.B. S Purohit
New Delhi Office:
E-301, Lower Ground Floor
East of Kailash, New Delhi-110065
Tel-011-41039934 & 011-26291810
E-mail:
del@sjalanco.com
Contact Person:
Ms Asha Nayar Basu
Ranchi Office:
Paras Complex, 1,
Club road(Behind Milan Palace),
Ranchi-834001 , Jharkhand .
Phone:+91-9470121762/8804205047,
Fax: +91 11-,
E-mail: somya.sjco@gmail.com
Contact Person: Somya Sinha
Mumbai Office:
Ground floor, Construction House
5, Walchand Hirachand Marg,
Ballard Estate, Mumbai-400001,MH.
Phone:+91-22-43558555/43558550/9821107664

View Larger Map