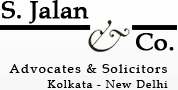 Core Practice Areas
CONTACT US
Corporate Office:
6/7-A, A J C Bose Road,
Kolkata 700 017
Tel +91 33 2280 7559/60/61
Fax +91 33 2287 9610
E-mail:
kolkata@sjalanco.com
Contact Person:
Mr. Tanmay Jalan / Mr.B. S Purohit
Litigation Office:
10, Old Post Office Street,
Kolkata 700 001
Tel +91-33-2248 3383, 2220 7427
Fax +91-33-2210 4641
E-mail:
kolkata@sjalanco.com
Contact Person:
Mr. Tanmay Jalan / Mr.B. S Purohit
New Delhi office:
J-1941,Lower Ground Floor,
Chittaranjan Park,
New Delhi-110019.
Phone:+91-11-26271810, 41039934,
Fax: +91 11-,
E-mail:
del@sjalanco.com
Contact Person:
Ms Asha Nayar Basu
View Larger Map
ART & CULTURAL HERITAGE
While the performance of the international market for art and antiques remains cautious overall, there continues to be unabated interest and investment in high quality art from private individuals, professionals, and institutional collectors alike, whether driven by passion or calculation. The art market now functions on a truly global level. But while record sales prices for quality art grab headlines in the international press, forgery and deceit, and the plunder and theft of cultural heritage in crisis torn regions of the world have reached unprecedented levels, creating traps not only for the unwary amateur but even for major international institutions who dispose of unparalleled expertise in their areas of interest.

Yet wherever art is created, acquired, sold, consigned, auctioned, loaned, insured, exhibited, exported, imported, or misappropriated, it is subject to a maze of international conventions and differing National laws, regulations and practices, covering as diverse a range of areas as contract, property, tort, intellectual property, trade, customs, tax and inheritance law, as well as the rules on conflicts of laws, governing and controlling the activities of artists, publishers, dealers, galleries, auctioneers, financiers, insurers, private and public collectors, and major museums worldwide.

We share our clients' passion for art and bring our legal experience and expertise in this area to bear when they undertake transactional or dispute resolution. We also advise and act for collectors and dealers of other high value collectibles.