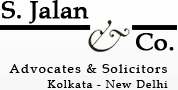 Core Practice Areas
CONTACT US
Corporate Office:
6/7-A, A J C Bose Road,
Kolkata 700 017
Tel +91 33 2280 7559/60/61
Fax +91 33 2287 9610
E-mail:
kolkata@sjalanco.com
Contact Person:
Mr. Tanmay Jalan / Mr.B. S Purohit
Litigation Office:
10, Old Post Office Street,
Kolkata 700 001
Tel +91-33-2248 3383, 2220 7427
Fax +91-33-2210 4641
E-mail:
kolkata@sjalanco.com
Contact Person:
Mr. Tanmay Jalan / Mr.B. S Purohit
New Delhi office:
J-1941,Lower Ground Floor,
Chittaranjan Park,
New Delhi-110019.
Phone:+91-11-26271810, 41039934,
Fax: +91 11-,
E-mail:
del@sjalanco.com
Contact Person:
Ms Asha Nayar Basu
View Larger Map
ENTERTAINMENT & MEDIA
The media and communications team is organised along industry lines, which reflect the convergence taking place in the various media and communications industries. The Firm operates across the full spectrum of the entertainment and related industries.

The individual sectors with which we are involved include all aspects of the music industry, theatre, film, television and video, sport, multi-media and computer games, publishing, advertising and marketing services, radio and merchandising.

We place great emphasis on the quality of our technical skills and the caliber of our people, many of whom are acknowledged experts in their respective fields.

Our entertainment clients include major show business, event managers, media and sporting interests. On an individual basis, we represent many celebrated performers and personalities.

We also actively encourage and support new and emerging talent, particularly in the fields of music and sport. Many of our most celebrated clients' first came to us at the start of their careers and have been with us since.

The increasingly global nature of the entertainment, sport and media fields requires a truly international perspective. We have close links with specialist law firms and other professional advisers.

The senior most Partner of the Firm, Mr Shyamanand Jalan, was the Vice Chairman of the Sangeet Natak Academy (India's Apex body for performing arts) and is also the Chairman of various other government Institutions dealing with Science and technology.

A list of our Clients is available on request.