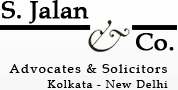 Core Practice Areas
CONTACT US
Corporate Office:
6/7-A, A J C Bose Road,
Kolkata 700 017
Tel +91 33 2280 7559/60/61
Fax +91 33 2287 9610
E-mail:
kolkata@sjalanco.com
Contact Person:
Mr. Tanmay Jalan / Mr.B. S Purohit
Litigation Office:
10, Old Post Office Street,
Kolkata 700 001
Tel +91-33-2248 3383, 2220 7427
Fax +91-33-2210 4641
E-mail:
kolkata@sjalanco.com
Contact Person:
Mr. Tanmay Jalan / Mr.B. S Purohit
New Delhi office:
J-1941,Lower Ground Floor,
Chittaranjan Park,
New Delhi-110019.
Phone:+91-11-26271810, 41039934,
Fax: +91 11-,
E-mail:
del@sjalanco.com
Contact Person:
Ms Asha Nayar Basu
View Larger Map
ENVIRONMENT AND HEALTH
According to the Constitution of India it is the duty of the state to "protect and improve the environment and to safeguard the forests and wildlife of the country". It imposes a duty on every citizen "to protect and improve the natural environment including forests, lakes, rivers, and wildlife". A reference to the environment has also been made in the Directive Principles of State Policy as well as the Fundamental Rights.

The Department of Environment was established in India in 1980 and in 1985, became the Ministry of Environment and Forests. Before the 1920s, it was believed that an employee by entering into a contract with the employer accepts the risks involved in employment and cannot hold the employer liable for injury or disease related to employment. But after the 1920s, when the Employers Liability Act was enacted, it has been recognized that because of the unequal relationship between employer and employee no such presumption can be made. All these laws also recognize that it is the responsibility of the employer to provide a safe work environment for employees. Over the years, the laws have been amended to bring in more detailed safety provisions for employees.

The orders of judiciary in the environment cases have made a difference to the environmental law scenario in the country and also in providing clean environment.

Our firm regularly appears before the National Green Tribunal and the Supreme Court on behalf of the West Bengal Pollution Control Board and for several other private organizations and industries all over the country.