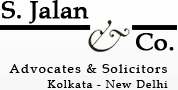 Core Practice Areas
CONTACT US
Corporate Office:
6/7-A, A J C Bose Road,
Kolkata 700 017
Tel +91 33 2280 7559/60/61
Fax +91 33 2287 9610
E-mail:
kolkata@sjalanco.com
Contact Person:
Mr. Tanmay Jalan / Mr.B. S Purohit
Litigation Office:
10, Old Post Office Street,
Kolkata 700 001
Tel +91-33-2248 3383, 2220 7427
Fax +91-33-2210 4641
E-mail:
kolkata@sjalanco.com
Contact Person:
Mr. Tanmay Jalan / Mr.B. S Purohit
New Delhi office:
J-1941,Lower Ground Floor,
Chittaranjan Park,
New Delhi-110019.
Phone:+91-11-26271810, 41039934,
Fax: +91 11-,
E-mail:
del@sjalanco.com
Contact Person:
Ms Asha Nayar Basu
View Larger Map
HEALTH CARE SECTOR
The healthcare sector as an industry is expanding rapidly and has not been as severely impacted by recent economic slowdown as some of the other industries. It comprises of hospital services, diagnostic services, diagnostic products, medical technology, clinical trial services and clinical research organizations. This sector is predominantly privatized and accounts for more than 80 percent of total healthcare spending in India with almost 75 to 80 percent of hospitals being managed by private sector.

Significantly low presence of physicians in rural and semi-urban areas has led to the limited access to proper healthcare facilities for the people living in these areas. Telemedicine is considered to be one of the solutions to this lacuna in accessibility to health care services in rural and semi-urban areas. Growth of IT sector in India which plays crucial role in telemedicine has led to emergence of this sector in India. Tele radiology has emerged very fast with increasing number of foreign hospitals active in this space. Many hospitals have adopted the approach of public – private partnerships ("PPP") to render services through telemedicine.
Healthcare sector is highly regulated in India. It is governed by various acts that cover establishment of hospitals, various services offered, medical professionals rendering services in the hospital as well as additional service offered by the hospital like cafeteria, pharmacy, ambulance etc.

Our team of specialist solicitors combines experience of the healthcare market with an understanding of its regulated fields to provide focused advice and solutions to a wide range of legal needs from the healthcare industry.

We deliver a full spectrum of services to private and public healthcare providers.
Our team has handled several healthcare litigation claims, and have handled a caseload of high value clinical negligence claims.