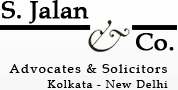 Core Practice Areas
CONTACT US
Corporate Office:
6/7-A, A J C Bose Road,
Kolkata 700 017
Tel +91 33 2280 7559/60/61
Fax +91 33 2287 9610
E-mail:
kolkata@sjalanco.com
Contact Person:
Mr. Tanmay Jalan / Mr.B. S Purohit
Litigation Office:
10, Old Post Office Street,
Kolkata 700 001
Tel +91-33-2248 3383, 2220 7427
Fax +91-33-2210 4641
E-mail:
kolkata@sjalanco.com
Contact Person:
Mr. Tanmay Jalan / Mr.B. S Purohit
New Delhi office:
J-1941,Lower Ground Floor,
Chittaranjan Park,
New Delhi-110019.
Phone:+91-11-26271810, 41039934,
Fax: +91 11-,
E-mail:
del@sjalanco.com
Contact Person:
Ms Asha Nayar Basu
View Larger Map
HOSPITALITY
Legal practice in the hospitality industry is both substantively and geographically demanding: it requires not only knowledge of industry practices and operations but also the ability to bring a variety of legal disciplines to bear, and it often requires the provision of services in multiple areas. This has made the hospitality industry a natural fit for our services. Our lawyers have amassed the experience to handle a wide variety of client needs in the hospitality industry in a variety of locales. Whether the particular project is the acquisition or sale of a single hotel or a portfolio of hotels, a loan to a hotelier, a merger, the negotiation of hotel management or franchise contracts, the protection of trademarks or other intellectual property, commercial litigation, international arbitration, labor and employment advice, development and construction contracting (or handling a construction dispute), or a host of other services, our Firm offers the expertise.

We retain an active practice in buying and selling individual hotels and small portfolios, both for investment funds and for individual investors.Our financially-oriented services to hospitality industry clients include everything from hotel / land acquisition, construction/renovation contracts, to employment and consultant contracts, operations and technical contracts. We are also actively engaged in day-to-day issues, such as management and franchising -- from the negotiation of contracts for hotels to the sale of franchised restaurants to disputes over contract terms. As a result, there are several attorneys within the Firm who have handled engagements for clients within the hospitality industry.