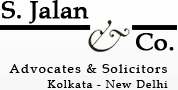 Core Practice Areas
CONTACT US
Corporate Office:
6/7-A, A J C Bose Road,
Kolkata 700 017
Tel +91 33 2280 7559/60/61
Fax +91 33 2287 9610
E-mail:
kolkata@sjalanco.com
Contact Person:
Litigation Office:
10, Old Post Office Street,
Kolkata 700 001
Tel +91-33-2248 3383, 2220 7427
Fax +91-33-2210 4641
E-mail:
kolkata@sjalanco.com
Contact Person:
Mr. Tanmay Jalan / Mr.B. S Purohit
New Delhi office:
E-301, Lower Ground Floor
East of Kailash, New Delhi-110065
Tel-011-41039934 & 011-26291810
E-mail:
del@sjalanco.com
Contact Person:
Ms Asha Nayar Basu
View Larger Map
CORPORATE & COMMERCIAL
We advise on all forms of commercial arrangement and trading activity.
In the recent public private initiative of the Government of India, the firm has had considerable experience in the areas of disinvestments and privatization. We have advised the Government of India, in the disinvestment of HCL and the Government of Uttar Pradesh on the Disinvestment of the Sugar Cane Mills.

DISINVESTMENT
Legal review of Memorandum & Articles of Association, Land & Asset title and ownership, mining rights, asset lease agreement, contracts with employees/unions, Loan and security documentation, Government of India (GOI) guarantees & its covenants, purchase/sale contracts, status of statutory liabilities, outstanding litigations & status of contingent liabilities, domestic/ international contracts maintenance /service contracts and other contracts/ agreements.
General review of the confidential information memorandum , disclaimers and disclosures related to outstanding litigations and contingent liabilities.
Review of Request for Participation.
Assist and advice in arrangement: for due diligence exercises and date room preparation. Drafting of transaction related legal documents
Assist in negotiation with the strategic Alliance Partners and/or their lawyers in finalization of the above agreements.
Facilitating 'closing' of the transaction and assisting in any issue that may arise in connection with the transaction.
Matter relating to company formation.
Opinions in respect of any other legal issues that may be referred from time to time in respect of legal / contractual documents.
COMMERCIAL CONTRACTS
Members of our commercial team provide advice on an extensive range of issues. Our work focuses on drafting and negotiating relationship agreements, joint ventures, outsourcing, public procurement and facilities management, sale of goods, sponsorship agreements, standard terms of business, the supply of services, agency, purchasing and distribution. We advise on inward investment and the establishment of businesses in India. Our Corporate and Commercial practice offers:
Commercial Contracts advice
joint venture arrangements
franchising
insurance
import and export financing
manufacturing and supply agreements
outsourcing
IT
MERGERS & ACQUISITION
We advise on all aspects relating to M&A transactions including: transaction organisation, management and documentation legal risk management - due diligence and warranties
Regulatory and financing issues
Tax structuring
Environmental issues
Employment
OUTSOURCING
We deal with all the legal and contractual issues relating to outsourcing agreements, including key issues such as pricing and payment mechanisms, service definitions, service levels, service credit regimes, customer obligations, benchmarking, remedies and change control procedures. Our lawyers are business advisers, not just legal experts.
One of our Partners comes from the IT Industry.
This enables us to make a unique contribution to drafting and negotiating the technical specifications/service level agreements which IT contracts need.