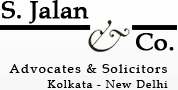 Core Practice Areas
CONTACT US
Corporate Office:
6/7-A, A J C Bose Road,
Kolkata 700 017
Tel +91 33 2280 7559/60/61
Fax +91 33 2287 9610
E-mail:
kolkata@sjalanco.com
Contact Person:
Mr. Tanmay Jalan / Mr.B. S Purohit
Litigation Office:
10, Old Post Office Street,
Kolkata 700 001
Tel +91-33-2248 3383, 2220 7427
Fax +91-33-2210 4641
E-mail:
kolkata@sjalanco.com
Contact Person:
Mr. Tanmay Jalan / Mr.B. S Purohit
New Delhi office:
E-301, Lower Ground Floor
East of Kailash, New Delhi-110065
Tel-011-41039934 & 011-26291810
E-mail:
del@sjalanco.com
Contact Person:
Ms Asha Nayar Basu
View Larger Map
REAL ESTATE
The Firm has a leading property practice with many years' experience in high profile and innovative transactions. The property market is subject to increasing globalisation, as large financial institutions become major players in the sector. Our real estate network provides an integrated service to clients working in all aspects of commercial real estate across India.

Areas of expertise- The specific markets and legal issues in which we have expertise include:

Investigations - conducting Title Searches of properties.
Documentation - drafting of sale / lease deeds, joint venture agreements etc. providing assistance in registration, conversion and mutation.
Document Registration.
Development - advising on project finance, planning and public law issues; opportunities for tax efficiency; innovative financing methods; the impact of environmental law; construction law; corporate structures, and on all aspects of some of the largest developments. We advise developers as well as corporations and institutions.
Hotels and Leisure - advising on hotel and leisure acquisitions, lettings, sales, developments, management contracts and financings throughout the world. We advise owners, operators, financial institutions and developers.
Investment - advising investors and institutions on a wide range of investment work including the creation of the investment vehicle, funding, acquisition and disposal, management and leasing.
Planning and Environment - advising on planning issues in real estate and development transactions, negotiating with local planning authorities, representing clients at Public Inquiries, environmental advice in property acquisitions and advising on environmental warranties and indemnities.
Real Estate Finance - advising investment banks, banks and funds, investors and developers.
Retail - Our team has the real estate, finance and tax experience needed to structure complex transactions.
Domestic and international tax laws and tax structures as pertaining to real estate.
Litigation - Our property & finance litigation team is acknowledged as the leading practice, both by the major legal directories.