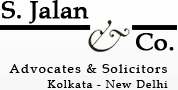 Core Practice Areas
CONTACT US
Corporate Office:
6/7-A, A J C Bose Road,
Kolkata 700 017
Tel +91 33 2280 7559/60/61
Fax +91 33 2287 9610
E-mail:
kolkata@sjalanco.com
Contact Person:
Mr. Tanmay Jalan / Mr.B. S Purohit
Litigation Office:
10, Old Post Office Street,
Kolkata 700 001
Tel +91-33-2248 3383, 2220 7427
Fax +91-33-2210 4641
E-mail:
kolkata@sjalanco.com
Contact Person:
Mr. Tanmay Jalan / Mr.B. S Purohit
New Delhi office:
J-1941,Lower Ground Floor,
Chittaranjan Park,
New Delhi-110019.
Phone:+91-11-26271810, 41039934,
Fax: +91 11-,
E-mail:
del@sjalanco.com
Contact Person:
Ms Asha Nayar Basu
View Larger Map
INTELLECTUAL PROPERTY RIGHTS
We have particular expertise in complex IPR litigation and also provide a full IP service in the areas of patents, trademarks, copyright, design, branding, trade secrets and unfair competition.

We act for financial, commercial and industrial clients in communications, software, biotechnology, pharmaceuticals, broadcasting and entertainment, publishing, mechanical engineering, energy, consumer products and financial and banking services.

We deal with the structure, ownership and management of IP rights with a view to exploiting their commercial value. We draft assignments and licenses of design rights, copyright and trademarks to realise that value. We also deal with patent and technology licensing and patent clearance advice as well as the drafting of confidentiality agreements.

Our trademarks and design registration unit along with a team of freelance consultants offers a one-stop-shop brand management and protection service to protect the rights that exist in a company's name, brand or design.

We cover all forms of IP disputes including:
Copyright infringements
Design right infringements
Trade mark disputes and passing off
Domain name disputes
Patent infringements
Breach of confidence, privacy and defamation
Our IP litigators offer the full range of dispute resolution services from High Court and Supreme Court proceedings through to alternative dispute resolution mechanisms.